Sir George Ononuju Agugua (KSC) is a Noble Knight of St. Christopher of the Anglican Church of Nigeria. He is a great Imo youth with style and candor.  Married to his beautiful wife, Lady. Ifeoma George Agugua. He hails from Obinaocha Village of Nkwerre LGA of Imo State, South East Nigeria. Patron of the Boys and Girls Brigade, St. James Anglican Church, Abuja, Nigeria.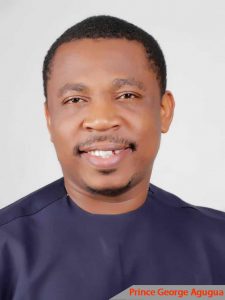 George graduated from Imo State University, holds a B.sc in Insurance and Actuarial Science and M.sc in Business Administration from the University of Abuja. He is a fellow of the institute for Health Insurance and Managed Care of Nigeria (FIHIMN), Fellow Chartered Institute of Loan and Risk Management of Nigeria (FCILRM). He is also one of the authors of International Journal of Management Science Research 2018, on Impact of Claim Settlement on Performance of General Insurance Business and has acquired several trainings and qualifications over the years for which he has obtained several accolades and certifications in Human Resources & Skill Acquisition, Basic Accounting & Financial Analysis, Project Management, Live2Lead on Leadership from John Maxwell Team, General Health Safety & Environment, Responding to Emergencies, Property Insurance Underwriting and Claims Practice, Underwriting and claims workshop for Enhancement Client Value and Profitability, from the College of Insurance and Financial Management, amongst others.
George Agugua is the Founder/President of Stella George Foundation (SGF) which is a passion driven non-governmental charitable organization with focus on care and support for the less privileged, accident rescue mission, the poorest of the poor and the helpless widows in the society. Through the foundation, George has given scholarships from Primary, secondary to University. He has done many humanitarian jobs with the (IDP) Internal Displaced Persons, School for the Blind, Orphanage Homes and education empowerment and others. We are currently working to expand our hands of fellowship to other African countries and beyond.  George Agugua is currently an Administrator, a Financial Risk Analyst and Insurance Underwriter with Zenith General Insurance Company Ltd. He is a philanthropist with penchant for serving humanity. His dream had been conceived from inspiration of his beloved mother of blessed memory; Lady Stella George Azuonwu.